Each week
Ridebuyer
delves deep into the misunderstood, oft terrifying, world of American saloon-car racing known as NASCAR.
This week: 3M Performance 400 presented by Bondo
TV: ESPN 1:00pm EST (Sunday)
Distance: 400 miles/200 laps
Past winners: C. Edwards (6/07); Ku. Busch (8/07); D. Earnhardt Jr. (6/08).
*The historical significance of Bondo and Jason Whitlock is not the pud we wanted him to be *
The presenting sponsor of this weekend's event is
Bondo
. Anyone who has ever attempted car body repair knows all about Bondo. For those less mechanically inclined here is a brief tutorial: Apply product on clean surface. Sand. Repeat. It's that fucking simple. Have a gaping rust hole in your door? No problem, Bondo the shit out of it. Want to fill in your sunroof? Bondo can help. Entire front clip gone? Bondo a new one. Goddamn, you can do anything with it. One time in high school we Bondo'ed ourselves an anatomically correct young lady and banged it. We were a lot cooler in those days. Digression.
We're not sure how much Bondo body filler gets used in the garages at a NASCAR event, but hike through the parking lot and you'll find entire cars made from the stuff. Having this product in the 3M family sponsor a race is just so
apropos
.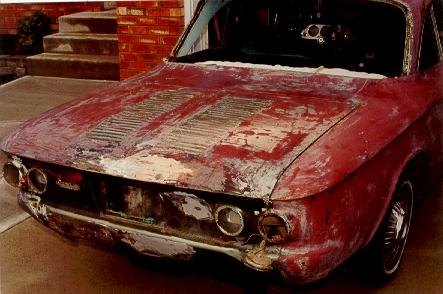 We really wanted to use this space to shit upon FOXSports.com columnist
Jason Whitlock
for his
(latest) piece
about the Mo Grant NASCAR exposed penis debacle. (Here's
our take
on the mess.) You see, we normally have a problem when stick-and-ball blowhards attempt to make glaring generalization about a sport which they know little about. We call this Skip Bayless syndrome. When writers opine just for the sake of opining, nothing interesting or insightful can possibly be said. That's why we were all geared up to toss some hate at Whitlock. Near as we can tell, the guy has only scribed three stories about motor racing for FOXSports.com. Three. Two were about Mo Grant and exposed cocks and the other was about Danica Patrick. That shows a real breadth of knowledge on a subject (sarcasm). Pick the two issues most likely to be debated on ESPN's
First and Ten
and write a column. Simple as that.
The problem is, after reading Whitlock's piece, we agreed with what the big guy said. The crux of his argument is that prior indiscretions by Mo Grant (in this case, a DUI and having a restraining order against her from a former boyfriend) have no bearing on her case against NASCAR. Lots of people get popped for DUIs and everyone has ugly breakups. NASCAR tried to make this look like a slam dunk against the character of Grant. It's not. As Whitlock said:
NASCAR's team of investigators has more work to do. The group needs to come up with more dirt than Mauricia Grant had a messy breakup with an ex-boyfriend and was pinched for driving under the influence and with a suspended license...
R
ather than enthusiastically hunting down dirt from Grant's past, NASCAR should be aggressively brokering a settlement and working to lift its work environment to caveman status.
Amen, J-Dub. Write a few more motor racing columns and we'll start to read your other stuff.
Maybe.
View Larger Map
About this race*What to know:Wacky fuel mileage deals:
Dale Earnhardt Jr. won the season's first race at MIS. He did not have the fastest car, the best handling car, and did not drive with any more skill or daring than anyone else on the track. His crew formulated a strategy that put him into a position to win. Gambling on fuel is certainly a double-edged sword that will bite you in the ass like Marv Albert with hooker. Just as the Earnhardt crew won the MIS race on fuel strategy, they lost at Watkins Glen while off sequence. Michigan has a history of fuel mileage races. The cliche is, 'anyone can win.' That may be true, it just depends on when the yellows fall.
Chevy still sucks:
During our preview of the MIS race back in June, we spoke of the Chevrolet struggles in the backyard of Detroit. Of course, a Chevy-powered car promptly won the event, making our statistics seem silly. Alas, pay no mind to the outlier. In the past 14 Cup events at MIS, Chevy has tallied exactly one victory.
Fords will be strong
.
Roush still the balls:
Six of last 13 MIS Cup races at MIS have been won be a remember of Roush-Fenway Racing. There is something about the two-mile track in the Irish Hills of Michigan that plays to the team's strengths. We don't know what that is...
Chase me away:
There are only four races left until the field for the Chase is set. After MIS, we are left with Bristol, Fontana and Richmond before the contenders for the championship are solidified. Keep an eye on drivers hovering around that final 12th transfer spot. (
Martin Truex Jr.
,
Ryan Newman
,
David Ragan
,
Clint Bowyer
,
Matt Kenseth
,
Kevin Harvick
and
Greg Biffle
are currently 16th-10th in points.)
*Who to watch:Matt Kenseth:
Two career wins at MIS, plus an average finishing spot of 9.3 in 18 Cup starts. Kenseth has the above mentioned Roush-Fenway advantage, and is coming off back-to-back top-15 finishes. The most impressive stat? In his 18 Cup starts at MIS, only one DNF.
Carl Edwards:
"Hot" Carl sits second in points and has three consecutive top-10s coming into Sunday's race. His record at MIS is nearly as impressive as that of Kenseth. (One win, four top-fives and an average finish of 7.2 in eight starts.) He also has zero DNFs at MIS. Impressive.
Kyle Busch:
The points leader does not have the most sterling of records at MIS, but has been a stud everywhere else. He won last weekend and has been nearly untouchable this year. Being the points leader has some advantages, one of which is the benefit of the doubt. We give Busch said benefit.
*For those heading to the track:
Pertinent tailgating information is
here
. We recommend not going into Detroit while in Michigan. In fact, just go the track, enjoy the race and get the hell out of the state as soon as possible. Remember, the smell of hot dog water is normal until you get outside of the state. God Michigan is a dismal place.
The
Ridebuyer
cocktail of the race is the Singapore Sling.
(From
cocktail.com
)
2
oz
gin
1/2
oz
wild-cherry brandy
1/2 lemon juice
1
tsp
powdered sugar
fill
carbonated water
2 cubes ice
We've never had one, maybe they're good. Maybe not. If not, just buy a case of Coors and slam. We know that's good.
*Points:
1 KYLE BUSCH
2 CARL EDWARDS
3 JIMMIE JOHNSON
4 DALE EARNHARDT, JR
5 JEFF BURTON
6 JEFF GORDON
7 TONY STEWART
8 KASEY KAHNE
9 DENNY HAMLIN
10 GREG BIFFLE
11 KEVIN HARVICK
12 MATT KENSETH
Next race:
Sharpie 500 (
Bristol Motor Speedway
). God bless thy Bristol. Tailgaters are gathering as we speak.