Each week
Ridebuyer
delves deep into the misunderstood, oft terrifying, world of American saloon-car racing known as
NASCAR
.
This week:
Pepsi 500
TV:
ESPN 7:00pm EST (Sunday)
Location:
Auto Club Speedway
(
Fontana
, CA)
Distance:
500 miles/250 laps
Past winners:
M.
Kenseth
(2/07); J. Johnson (9/07); C. Edwards (2/08).
*Racing on a Sunday night, Chase-isms and the history of the "Hot Carl" *

The weather in
SoCal
dictates that
Fontana's
second Cup race is a night affair. There is no possible way to wage this race in the afternoon heat of greater-LA in August. Fans would be keeling over in the stands and reaching the brink of heat-induced delirium and hallucinations before the ceremonial flyover of Navy F-37
whatevers
. The crews and drivers would, of course, deal with the oppressive heat as they are being paid to sweat their respective balls off in three-layer
nomex
jumpers. It is the fans that would suffer, as they would be expected to spend valuable cash for the honor of getting a sun burn. We, (you know, the editorial we) got a sun burn in Florida a month ago and thought our skin was going to separate itself from the bones and other inner workings of our body. That shit hurts. And we didn't have to suffer the indignity of paying money to get ass raped by the sun.
So, merciful
NASCAR
contests this particular race at night. That's not terribly noteworthy as many events get the under-the-lights treatment. But, not many get the
Sunday
under-the-lights treatment. That's because most people have to go to work/school on Mondays, thus the prospects of watching or attending a 500-mile motor race that will undoubtedly stretch into the wee hours of Monday morning (EST, that is) is not very appealing. Labor Day weekend is the perfect fit, with Monday void of any activity save pounding beer until the grill need lit. But, the advantage doesn't stop there. It's "two fold" as they say. The second fold rhymes with football. This is kickoff weekend for college f-ball and
NASCAR
would be crazy to stage a race against that.
Consider: Because of the aforementioned climate concerns, this weekend's race must happen at night. Typically...
NASCAR
schedules Cup night races on Saturday evenings. If that were to happen in this case, the race would be opposite a host of games including Alabama v. Clemson, Illinois v. Missouri and the highlight of our kickoff weekend, Cal Poly v. San Diego State.
NASCAR
, you don't want to/can't compete with that shit.
-This is race #25 of 36 in the Sprint Cup schedule. More importantly, after Sunday night's race, there will be only one event left until the field for The Chase is set in stone. Thanks to the stat crunching abilities of the crack staff over at
nascar

.com
, here is a handy chart to determine who could, conceivably, make or not make the playoffs. Note that "
ACS
" is the Auto Club Speedway. Here to help.













Pos

.
Driver
Points
Behind

ACS

Starts

ACS

Wins

ACS

Avg. Finish
6.
Tony Stewart
3013
-596
14
0
16.0
7.
Greg

Biffle

2984
-625
11
1
19.6
8.
Kevin

Harvick

2972
-637
12
0
19.1
9.
Jeff Gordon
2951
-658
16
3
11.2
10.
Matt

Kenseth

2921
-688
13
2
9.9
11.
Denny Hamlin
2900
-709
5
0
17.8
12.
Clint

Bowyer

2855
-754
5
0
12.4
13.
David

Ragan

2843
-766
3
0
14.0
14.
Kasey

Kahne

2799
-810
9
1
13.7
15.
Ryan Newman
2674
-935
11
0
18.6
There are your bubble drivers. Keep an eye on them, if inclined.
-Other Chase points of interest:
Nine drivers could clinch spots in The Chase on Sunday.
Any driver who leaves
Fontana
with a 196-point (or more) advantage over the driver in point position 13 will have clinched a Chase spot.

Dale Earnhardt Jr.--
Can clinch with a finish of 40
th
or better; 41st and lead at least one lap.

Jimmie Johnson --
Can clinch with a finish of 40
th
or better; 41st and lead at least one lap.


Jeff Burton --
Can clinch with a finish of 15
th
or better; 16
th
or 17
th
and lead one lap; 20
th
and lead the most laps.
By the Numbers: California (Nascar.com)
-Carl Edwards is on quite the tear. As we've said previously, he appears to be "peaking" at the right time this season and has to be considered the favorite heading into The Chase. It's been six races since Edwards' finished outside of the the top-10. It's been this string of consistent performances that has led us to christen him "Hot" Carl. Makes sense, right? Turns out, this has a duel meaning.
Check it out
. (
NSFW
. Unless your work deals with shitting in girls faces, that is.) Way to go Carl.
Busch v. "Hot" Carl, the next

Kimbo

v. Shamrock?:
In a word, no. The two played wreck-um after the Bristol race and were subsequently placed on "probation" by
NASCAR
. Despite the fact that
NASCAR
"probation" does nothing and no further penalties will be levied against the two regardless of their future on track conduct, they are not going to repeat the shenanigans of last weekend. First, the Auto Club Speedway is far too fast of a circuit to take revenge. No one is going to wreck someone at 200-mph. That is how appendages get forcibly separated from bodies. Second, with the way The Chase is formulated, regular-season race wins are too important to toss away on a vendetta. If either drivers are challenging for the "W" on Sunday (which they both will be), then they will keep their respective noses clean. Sorry wreck mongers.
Ford v. Toyota, the next

Kimbo

v. Shamrock?:
In a word, maybe. The first half of the season was dominated by the foreign marque and now the lads from MI are getting nasty. "Hot" Carl v. Busch is a mildly interesting subplot, the real drama comes from USA v. Japan, Good v. Evil, Traditional Stock Car Racing v. Contemporary
NASCAR
, etc. That is the real intrigue as the season winds down. Think larger scale than the battle between two drivers or even the battle between two teams. Hopefully the tiff continues on Sunday.
*Who to watch:
Kyle Busch:
Remains point-leader (and is locked as such until The Chase starts), has one Cup victory at
ACS
and has not finished outside of the top-10 there since the winter race in 2005. He has seven career wins on intermediate tracks and his
JGR
Toyota has been the class of the field every week. Busch's inclusion in "Who to watch" has officially become redundant and silly.
Carl Edwards:
Where there's a Busch, there's a "Hot" Carl in close pursuit. Edwards has amassed an nearly incredible record at
ACS
. Since his first
SoCal
race in 2004, he has finished outside of the top-10 exactly once. He has finished outside of the top-five exactly twice. His average
ACS
finishing spot is a staggering 6.8.
RFR
regularly dominates intermediate tracks and will be a force come Sunday evening.
Denny Hamlin:
Currently in The Chase. That could change unless he has a solid effort on Sunday. He will. While never winning at
ACS
, Hamlin is historically solid at similar tracks. He needed a good result last weekend to get back into the top-12, he got it, and now needs a repeat performance. We've got a good feeling about young Denny.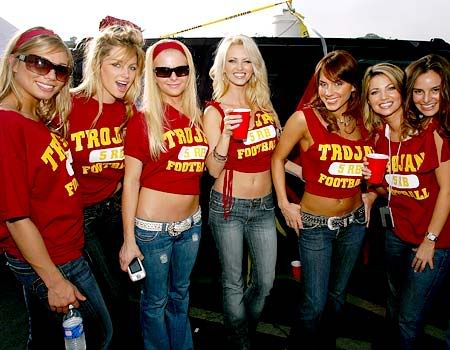 *For those heading to the track:
Pertinent tailgating information is
here
. We think this could be a bit of a moot point, as people in Southern California probably don't tailgate anything beside
USC
games. But, we also don't think people in Southern California would go to a
NASCAR
race. So, what do we know?
The
Ridebuyer
cocktail of the race is the Cali-Barn Banger. That's a bottle of beer with a shot of SPF 30. It tastes like shit, but your throat will be moisturized like
nobody's
business.
Points: