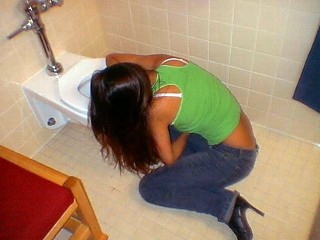 Each week
Ridebuyer
delves deep into the misunderstood, oft terrifying, world of American saloon-car racing known as
NASCAR
.
This week:
Camping World RV 400 presented by AAA (Chase round #2)
TV:
ABC 1:00pm EST (Sunday)
Location:
Dover International Speedway
(Dover, DE)
Distance:
400 laps/400 miles
Past winners:
M.
Truex
(6/07); C. Edwards (9/07); Ky. Busch (6/08).
*Crappy starts, sporting meltdowns and mistakes *
-It seems like Kyle Busch was the points leader for the entire season. Until now. Now he sits in eighth place and has back against the proverbial title wall. After one Chase race, his entire cushion has been eradicated to the brink of no return. Sure, Busch can still win the championship. It could happen. But he's used up his only Chase mulligan. Should the young Busch (
hehe
) stumble again, his title hopes will be over faster than Steve
Wiebe
can jump a plumber past a barrel. This would be a historic collapse. Taking into account Busch's performance in all of the
NASCAR
series' this season, not winning a single championship would be quite the fold up. Remember, at one time, Busch held the points lead in all three major
NASCAR
touring series. Sure, he ran truncated schedules outside of Cup, but damn, 18
NASCAR
-sanctioned wins this year and not a single title. That would be rather bunk.
That got us thinking about famous bed-shitting moments across the world of sports and where the potential title-less Busch would fit in. Should this fold-up happen, we'd place it in sporting disasters, tier three. Here's how it plays out in our minds.
Tier #1. The bed, thoroughly shat.
2007
Mets
: Lost 12 of their last 17 games. Seven game lead on September 12
th
gone by season's end. No postseason. South Philadelphia has never been the same.
1992 AFC wild-card,
Oilers
v. Bills: Frank Reich becomes a quarterback. Enough said.
1999 British Open, Van
de
Velde
:
VdV
needed a double-bogey on 18 for the win. He triple-bogeyed, then lost in a four-hole playoff to Paul
Lawrie
. Think Roy
McAvoy
, but without the guidance of
Cheech
.
Tier #2. Trace amounts of poo on sheets.
2000 Western Conference Finals, game seven: Portland has a 15-point lead over the
Lakers
with 10 minutes to go in the fourth. The Blazers then saw
Shaq
and Kobe go crazy in a 15-0 run, which led the
Lakers
to win the series.
1986 World Series, game six: Bill Buckner,
Sox
lose in seven. Would be in tier #1, but Buckner is not solely responsible. He had plenty of help losing that game and the series.
Tier #3.
Pants shat upon
, bed safe and dry.
1996 Masters, Greg Norman: The Shark had a six-stroke lead going into the final round. He shot a six-over 78, tanking to Nick "don't call me Waldo"
Faldo
.
2008?
NASCAR
Sprint Cup Series: Kyle Busch holds point lead for vast majority of "regular" season, only to finish the first Chase event in 34
th
, never to recover he finishes the season in 12
th
place, last of all the Chasers. Maybe.
Some might argue with the above list (go fuck yourself), but there's no question that should Busch not win the Cup title, his season would become a contemporary of the aforementioned disasters. Not the biggest meltdown, but list worthy no less.

About this race:
*What to know:
Where/what the hell is Dover?

Dover is a high-banked mile
trac
k
that is
located halfway between Philadelphia and Washington DC. The track surface is concrete (which, for those not up with track construction materials, is not the norm). The track has the nickname the

Monster Mile

, which will be used extensively during the broadcast.

ABC

may even show the world-famous Dover monster statue which is terrifying as shit.
Gordon is the boss:
Jeff Gordon has four career wins and four poles at Dover. He's pretty much a beast at DIS. He captured the pole for Sunday's race (race lineup) and has been competitive since the first practice session of the weekend. He also has an added incentive to perform at Dover. DuPont, Gordon's longtime sponsor, has their world headquarters just up the road in Wilmington, DE. Tax dodgers.
Avoid the little 'big one'
:
Everyone knows that big
restrictor
plate tracks produce close racing and the inevitable huge wreck. Dover is not a big track and plates aren't used, but the chance for a multi-car accident is almost as high as it is at
Daytona
or
Talladaga
. Why? Because it's small and fast. You just don't have the time to get away from an accident. The field is so close, and going so fast you're on top of the accident before you can move from it. Just ask Kevin
Harvick
about that. He started in the back for the June race at DIS, got into the little 'big one' early on and finished 38
th
.
View Larger Map
Who to watch:
Jeff Gordon:
19 top-10 finishes for Gordon at Dover. That is a staggering number. 19. Jesus. He starts from the pole and is clearly the favorite to win. He finished fifth at Dover during the June race and is looking to impress those DuPont bigwigs who are traveling to Dover to see their guy. Sleazy sports betting sites have him 8/1 to win. Gotta say, we'd take that.
Greg

Biffle

:
No one expected this guy to do much in The Chase. He made it in, good for him, he'd probably wind up eighth or ninth in the final standings and should be happy about that. Well,
Biffle
won last week and vaulted himself into third place, only 30-points outside of the lead. He has not finished outside of the top-10 at DIS since 2005 and finished p3 last time
NASCAR
was in DE. Momentum is a crazy thing.
Kyle Busch:
The defending race winner is in dire need of a good run. Should he
falter
on Sunday his hopes of a title will likely be gone. He is historically good at DIS with five top-10 finishes. He starts 11
th
.
*For those heading to the track:
Pertinent tailgating information is
here
. FYI, the real party takes place in the nearby
Dover Downs Hotel and Casino
. You should really hit it up after the race. We'd recommend renting a suite until at least October 10
th
, when the
Dionne Warwick and Friends concert happens. We don't know who the "friends" are, but imagine they'd be special.
The
Ridebuyer
cocktail of the race is a case of
Dogfish Head
. Sure, it's a craft beer, and drinking it at a race will surely get your ass beat, but it's from DE! Tell us if it's worth the black eye.