Each week
Ridebuyer
delves deep into the misunderstood, oft terrifying, world of American saloon-car racing known as NASCAR.
This week: The LifeLock.com 400
TV:
TNT 6:30pm EST (Saturday)
Location: Chicagoland Speedway (Joliet, IL)
Distance: 400 miles/267 laps
2007 winner:
T. Stewart
*Pretentious Chicagoans, Tony Stewart is your boss, and how to avoid stabbings*
Next season, Tony Stewart will own a Sprint Cup team and have paid exactly $o for it. Such was the nature of his deal with the now-named Haas-CNC Racing. Stewart gets a 50% share in the team, not in exchange for cash, just his ability to win, find sponsors and turn a crap team into something competitive. If that deal sounds pretty sweet, that's because it is. This is almost certainly the first deal of its kind in NASCAR, and possibly in all of motor racing. This deal
blew many people away
(J.D. and Joe Gibbs to start with) and for good reason. The concept of a deal like this transpiring never crossed our minds. Giving someone team ownership for nothing more than showing up (or signing up in this case) is a bogus quid pro quo of epic proportions. That said, all the best to Stewart and the new Haas team next season. They are joining the Stewart-racing empire which already features tracks and various open-wheel teams. We expect Smoke to make an offer on our site soon. It will ridiculously low, we'll still accept it, but intend to bitch at the figure like a New Jersey woman disputing a credit card charge.
Why is Chicagoland Speedway the new place to announce blockbuster driver-moves?
In '06 Juan Montoya said goodbye to F1 in Joliet. Coincidence? Probably.
We've never been to Chicagoland Speedway, heard it's nice, but never ventured to the track or southwest Chi-Town area. But, we have been to Chicago and there are certain things to know about the town before diving headfirst into the third largest city in the union. It's safe to say many fans will be staying closer to the city than the track, and could want to "sight see" about when not at the circuit. Bad idea. Buy a Chicago-style hot dog at the track and be content. Don't try to go to Wrigley Field. Under any circumstances. Bleacher seats are like $60, beer is $10 and they sell out day-games on Wednesday afternoons. Clearly nobody living on the Northside is employed. It's a fucking Wednesday, don't you'll have someplace to be? Kosuke Fukudome is a bitch and doesn't deserve to be on the All-Star team, yet alone a starter. Fuck the Cubs. Fuck the Northside. Fuck Harry Caray. (Okay, don't fuck Harry Caray. That guy was great. Fuck Steve Stone instead.) How about fitting in a White Sox game? Worse idea. There's a 50/50 chance of getting knifed by a Puerto Rician just by venturing to the Southside. If you go to a game, that percentage increases exponentially as Ozzie Guillen slices all. All. Everybody.
Sometimes people living in big cities get envious of other big cities. Example, everyone living in a city with a population of over 1 million thinks that city is New York City. Re: Chicago. The only place that has the right to be pretentious is NYC. We don't care if Oprah tapes her dikey show from your town. You're not cool. Don't act like your city doesn't smell like Kathy Bates'
FUPA
, or your subway system isn't confusing as shit, or your bars are not filled with collar- popped braskies. Don't pretend. Your sports teams are lame, your newspapers suck and you are just like every other big city in the country. Sans New York, that is.
*What to know:
1 1/2 miles of cookie-cutter awesomeness
: There have been more 1 1/2 mile ovals built in the last decade than visitors who have visited our site. That's right, about seven such tracks have been built. That's quite a lot for an already saturated market of Cup-ready tracks. Chicago, Atlanta, Charlotte, Texas, Las Vegas and Kansas are all similar in their layout and design. Team's have these tracks figured out. They know how to get around them and what changing conditions can do to the circuit. Racing at night is the only potential x-factor for this event, but again, squads are so familiar with these intermediate tracks there should be little issue. Expect longer green flag runs which are conducive to the dreaded "fuel mileage race." You've been warned. The fewest number of caution periods during this race? Seven. Maybe fuel wont be an issue.
He makes it rain. Occasionally:
Wet weather knocked qualifying off of the table for Saturday night's race. That puts points-leader Kyle Busch on the pole. With owner points determining starting positions, no heavy hitters will be forced to work through the pack because of a shit qualifying run. That points to the perennial favorites to be, well, favorites on Saturday. The inverse of this is that some fast cars will have start tail as their team's are not high in the point standings. So, perennially fast cars will start in the front, sometime-contenders who are fast this weekend will be in the back, and slow cars will be mixed throughout. Sounds like a potential cluster fuck to us.
*Who to watch:
Carl Edwards:
"Hot" Carl has been just that of late, hot. He will start from outside of row two on Saturday night and will be the best chance for the Ford bunch to swipe a victory. While he has not run particularity great at Chicagoland in the past, (one top-five and an average finish of 20.7) his Roush-Fenway team is historically strong on intermediate tracks. "Hot" Carl is the best bet to defeat the Toyota-freight train.

Tony Stewart:
NASCAR races tend to produce seemingly unbelievable outcomes at unbelievable times. Some people cry shenanigans when such races transpire, other turn a blind eye and chalk it up to coincidence. (
More on manipulating races
.) If Tony Stewart wins his first race of the season just days after announcing his Joe Gibbs Racing exodus, well, let's just say that would make for a good storyline. NASCAR loves good stories. Oh, Stewart is also really good (two wins and five top-tens) at Chicagoland.
Kyle Busch & Dale Earnhardt Jr.:
Both drivers will share the front row and have have posted wins in Joliet. (Earnhardt in 2005, Busch Friday night in the Nationwide race.) Everything Kyle Busch has touched this season is now gold, while Earnhardt sits second in the points, lacking the number of wins (just one) to challenge Busch for the top spot. This will be the battle to watch on Saturday, One v. Two; Chevy v. Toyota; America's hero v. America's bitch. It should be entertaining. FYI, current odds to win: Busch 5/1; Earnhardt 6/1.
Vegas Insider
.
*Dark Horse:
Casey Mears:
The Hendrick-driver is already out of his seat for next year. Maybe he has something to prove, maybe he wants to leave on a high note. Maybe not. He has one career top-five at Chicagoland and starts from deep in the pack. Here's a stat to chew on, no driver starting inside the top-five has ever won this race. For that, Mears gets to ride to horse.
*For those heading to the track: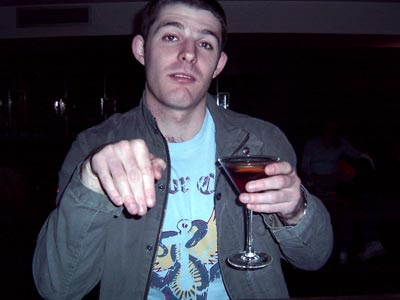 Pertinent tailgating information is
here
. No coolers of any size are allowed into the track. Gay. Drink in the parking lots. The official
Ridebuyer
cocktail of the race is the "
Manhattan
." You should know already know how to make one, but if not:
3 parts whiskey
1 part Sweet Vermouth
Yeah, it's pretty simple.
1 KYLE BUSCH
2 DALE EARNHARDT, JR
3 JEFF BURTON
4 CARL EDWARDS
5 JIMMIE JOHNSON
6 JEFF GORDON
7 DENNY HAMLIN
8 KASEY KAHNE
9 MATT KENSETH
10 CLINT BOWYER
11 GREG BIFFLE
12 TONY STEWART
Next race: Allstate 400 at The Brickyard (Indianapolis Motor Speedway).Wait, so this is different than the Indy 500, right?