Each week
Ridebuyer
delves deep into the misunderstood, oft terrifying, world of American saloon-car racing known as NASCAR.
This week: The LifeLock 400
TV: TNT 12:30pm EST (Sunday)
Location: Michigan International Speedway (Brooklyn, MI)
Distance: 400 miles/200 laps
2007 winners: C. Edwards (spring race); Ku. Busch (fall race)
*The American auto industry and stench of hot dog water*
The last American-made car was purchased in 1992. It was a Chrysler Le
Baron, brand new. It was powered by a 2.5 L four-cylinder engine and featured a three-speed automatic transmission. The car was a total shitbox. I know this because it was purchased at McMahon's Chrysler in Whitehouse, Ohio by my father. The air conditioning never worked, the transmission slipped, ominous noises emanated from every corner and the damned thing leaked oil. That car sucked. No one ever had sex in a 1992 Chrysler LeBaron; not me, not you, not John fucking Holmes. This car marked the official end of the American automobile industry. Since '92, no passenger car produced by the so-called
Detroit Three
was purchased in this country. Not one. Now, everybody feels the pain.
This had reverberating impacts across the nation. Workers lost jobs, towns boarded up, crime ran rampant, economies crumbled and
Michael Moore
became famous. All because the cars produced in factories across our nation were no match for their overseas counterparts. Despite their size, people had sex in Honda Civics and Toyota Corollas. It was possible, I've seen it.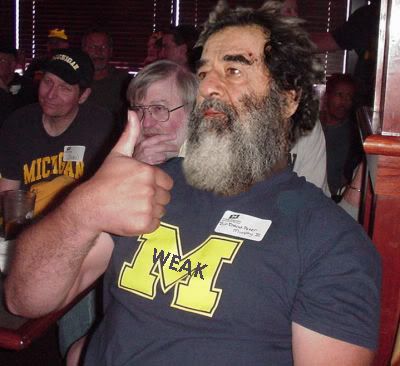 No location felt the brunt of despair more than Michigan, the state built on the shoulders of American auto workers. Detroit became a state of marshal law, with any remaining auto-execs forced to attempt river passage into Windsor, Ontario and the possibility of brighter days. The 1992 LeBaron was not the only cause for the collapse, but it was the final straw. There would be no recovering for the Detroit Three. Sure, cars still get made in factories across Michigan, and boardrooms hold meetings about warranties and employee pricing options, but does anyone (aside from pickup truck buyers) care? Nope. If you want a car that is inexpensive, gets reasonable fuel mileage, and wont shit the bed after 60,000 miles, you have to buy a foreign car. No exceptions.
NASCAR, once a bastion for all things USA, going to the derelict home of the car business, is like Buckner returning to Shea. Sure, the Irish Hills are not exactly downtown Detroit, but you get the idea. Further insult will be added when Kyle Busch's Toyota rolls into victory lane. RIP American car industry, y'all had a good run.
Aside from Michigan not having an economy to speak of, the following generalizations can be made about the Wolverine State.
1) Residents of MI have no concept of the rules, regulations, and common courtesies associated with operating an automobile. None.
2) As outlined in HBO's phenomenal documentary The Rivalry, the entire state of Michigan smells "like hot-dog water."
3) People in Michigan are still very upset about the outcome of the Toledo War. (This is not a joke.)


*What to know:
Start anywhere: Winning at MIS only has one prerequisite: you must start from the inside the top-30. The last two winners at MIS started from 12th and 15th respectively (C. Edwards and Ku. Busch). In fact, starting on the pole has recently proved detrimental, as both '07 bell-enders finished outside the top-25. The track is so wide and multi-grooved, that well handling cars should have no problem going from back to front and vice versa. Consider 2000, where Tony Stewart won this race from the 28th starting position. You just gotta be in it to win it.
Foreigners invade: For the first time in the history of stock car racing at MIS, a foreign marque has a better than average shot at winning. A Toyota victory in the backyard of Ford, General Motors, et al would be a major slap in the face to NASCAR's old guard. Clearly Joe Gibbs Racing is the front runner to field a winning car on Sunday. (Both Denny Hamlin and Tony Stewart have career-average MIS finishes inside the top 15. Only points-leader Kyle Busch has had limited success in Brooklyn.) Red Bull Racing has even looked racy of late, plus Brian Vickers and Dave Blaney both scored top-10's in the second MIS event last season. At this point in the season, a Toyota win (regardless of the track) should shock no one. MIS is not an exception.
Chevrolet sucks: The last time a Chevy pulled into victory lane at MIS? 2001. June 10th, to be more specific. Since that race, 13 Cup events have been contested at MIS, with Ford claiming six wins and Dodge taking seven. Don't bet on Hendrick Motorsports to break out of their slump this weekend. Sorry, Junior-Nation. Roush-Fenway and Penske will be the only hope for flag-wavers.
*Who to watch:
Ryan Newman: Two wins and four top-fives, plus Dodge-power makes Newman a weekend favorite. 2004 was the last time Newman broke into the top-five at MIS (he won the spring race that year), but he finished 10th at the California Speedway (sister-track to MIS) earlier this year. Grab life by the horns, baby.
Matt Kenseth: A model of consistency at MIS, Kenseth has an average finish of 9.7 in 17 career Cup starts. He has two MIS victories and is slowly building momentum this year with four straight top-20 finishes. He may not be the fastest off the hauler, but will get quick as the weekend grinds on, and will be competitive on Sunday.
Kyle Busch:
Leading the points and being quick everywhere is a good way to make the "Who to watch" list every week. Like last weekend Busch is attempting the
Truck/Nationwide/Cup trifecta
this weekend, but has an easier go of it, as Truck and Cup are both at MIS. He has not had any Cup-luck at MIS with only two top-10s and a shitty finishing average, but will be quick regardless. If victory does somehow elude him, he will blame the car and act like a bitch, which is always entertaining. Looking forward to it, Kyle.
*Dark Horse:
Reed Sorenson: Dodge is going to fast this weekend. Sorenson drives a Dodge. In 2006, Sorenson scored a top-five at MIS. That is his highlight at MIS, but it's good enough for him to saddle-up this week. Enjoy the view from the horse.
*For those heading to the track:
Pertinent tailgating information is
here
. Cooler regulations are pretty stringent (6x6x12 is fucking small). Our advice, drink in the car on the way to the track. You could pound 17 beers and still function better than 80% of Michigan drivers. Our cocktail of the race is a
Gentleman Jack
and water. Two or three of 'em babies will make you rowdy enough to confront Bill Engvall (this weekend's Grand Marshal) and tell him his show is a piece of shit.
*Series points:
Next race: Toyota/Save Mart 350. Wait, you mean, we have to turn left... and right? I just can't comprehend the situation.